Step into Kerala, step into picture-postcards and heavenly beauty!! Traveler's treasures in India are manifold but Kerala often and appropriately referred to as 'God's own country' is a gem amongst gems.
Located in southern India, this is a coastal state endowed with much of nature's delights. Extensive travel in different terrains and climates accustoms one to staying in hard and difficult conditions as well. But the beauty of Kerala is that while it keeps your excitement nerves and buds tingling, you always are assured to have a luxurious holiday.
Kerala- The Fantastic Family Destination
The Lonely Planet Award for the Best Family Holiday destination 2014 has been given to Kerala. So what makes Kerala so sought after?
Culture, nature, comfort and adventure make an intoxicating cocktail called Kerala. A quick glance into a few destinations loved by us:
Munnar
This quaint little hill-town in Southwest Kerala is an abode of some of the best tea-plantations of the world. You can actually see the process of tea-making, right from the plucking of the leaves, processing , packaging  and finally getting brewed into that hot cuppa  of tea you absolutely love.
But that's not all that Munnar has to offer. Its hairpin bends, misty hills, expansive flora and fauna, tea-museums, trekking tracks and para-gliding will ensure your kids and you stay blissfully occupied. Adventure lovers can trek to Anamudi, the highest peak in south India and wildlife enthusiasts can check out the Eravikulam National Park.
Fort Kochi
Become a part of the cultural labyrinth called Kochi. Often referred to as the 'Gateway to Kerala' this city is an opportunity to enjoy interesting, multi-faceted historical influences. Its Architecture and culture carry imprints of British, Dutch, Chinese, Portugese and Arabs which attracts tourists from all over the world.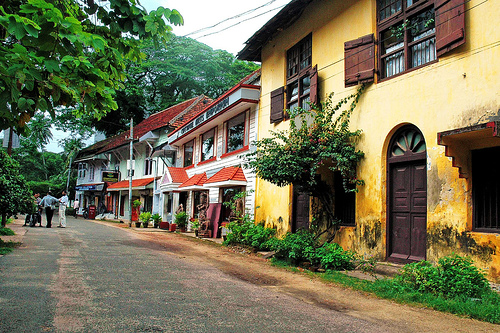 Athirapilly Waterfalls
Close to Kochi are the Athirapally waterfalls which are a part of the Chalakudy river. Your visit to Kerala is incomplete without visiting these majestic waterfalls famously known as the 'Niagra of India.' Many Indian movies are shot at this breathtaking location. The journey to the waterfall is mesmerizing, filled with a diverse variety of flora and fauna. Coconut trees, small streams on the way to the fall , each seem to be narrating their story to you. But yet nothing prepares you for the sight of the waterfalls themselves. Their beauty, their magnificence and their endlessness overwhelms you immediately. At that moment I felt closer to nature than ever and there was only respect and gratitude for the almighty.
http://www.youtube.com/watch?v=Mh_06lJG-iY
Alleppey and Kumarakom backwaters
A holiday in Kerala backwaters is a camaraderie of exoticness and simplicity which is a rarity in holiday destinations.
Lakes, lagoons and fresh water rivers make it a major backwater destination today. The scenic beauty of this place will enthrall you, but the most exciting bit in this' Venice of the East' will be your tryst with the houseboats. The 'Kettuvallam' or the local houseboat is one of the major attractions for any Kerala visitor and it never fails to charm. Passing through paddy fields, small houses, traditional canal systems and lovely lagoons, it will be one beautiful and memorable experience for you. A cruise in a houseboat also includes some delicious meals, right from continental dishes to some spicy north-Indian fare and obviously some absolutely delicious local vegetarian and meat-based delicacies.
The Kumarakom backwaters that is on the Vemband lake are another major tourist attraction for its splendid natural beauty, comfortable cruises and delicious cuisine, especially the lavish and delicious fish dishes. Kumarakom is one of Kerala's most popular fishing belt and hence the fish-curry on the houseboat served here is very fresh and tasty. Your tatse-buds won't be able to resist this heavenly curry!!
Immensely beautiful locations, warm and welcoming people, novel flavors , exotic wildlife, natural endowments, cultural fests and marvelous architecture are just a few things Kerala is all about. Visiting Kerala was my discovery of why this land is called 'God's own country' and truly it is.